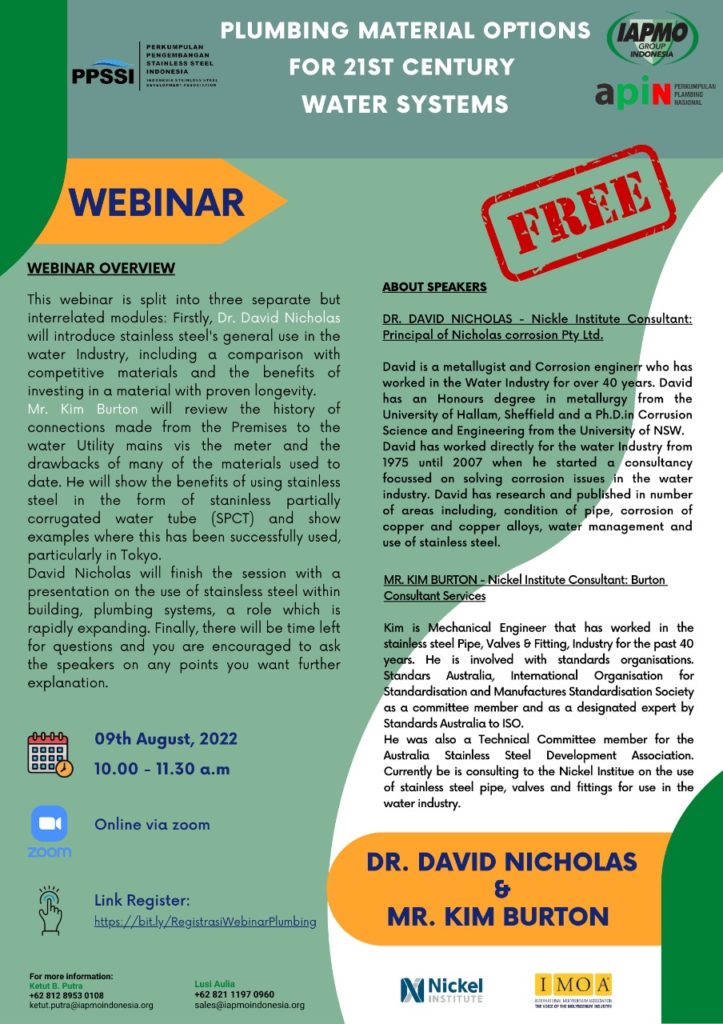 NOTE THE TIME DON'T MISS IT!
"PLUMBING MATERIAL OPTIONS FOR 21ST CENTURY WATER SYSTEMS"
Join us, IMOA, PPSSI, NI, IAPMO, and APIN for this online webinar!
⏰ 9 August 2022 – 10.00-11.30WIT
⚙️ REGISTER : http://bit.ly/RegistrasiWebinarPlumbing
? This webinar is split into three separate but interrelated modules: Firstly, Dr. David Nicholas will introduce stainless steel's general use in the water Industry, including a comparison
with competitive materials and the benefits of investing in a material with proven longevity.
Mr. Kim Burton will review the history of connections made from the Premises to the water Utility mains vis the meter and the drawbacks of many of the materials used to date. He will show the benefits of using stainless steel in the form of stainless partially corrugated water tube (SPCT) and show examples where this has been successfully used, particularly in Tokyo.
David Nicholas will finish the session with a presentation on the use of stainless steel within building plumbing systems, a role which is rapidly expanding. Finally, there will be time left for questions and you are encouraged to ask the speakers on any points you want further explanation.